Browsing all articles in News
Educators Teaching Outdoor Recreation and Education in the Black Hills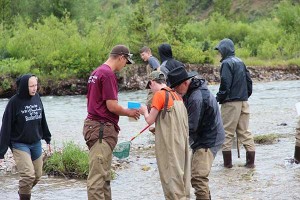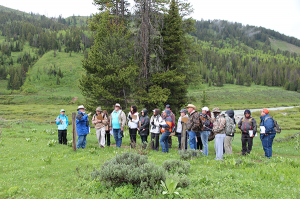 The Greater Dacotah Chapter of Safari Club International is proud to announce that one of many teachers from Rapid City has completed a class at the American Wilderness Leadership School located in Jackson Hole Wyoming.  The local chapter along with the Safari Club International Foundation has sent 8 local teachers to this camp since the chapter was founded.  The Greater Dacotah chapter pays the registration fees for interested educators to attend this week-long camp at the base of the Teton Mountains.
These teachers come back with many skills to present to their students.  Wildlife conservation, land management, ecosystem approach to management, hunter ethics along with hunting and fishing skills are a few of the many educational opportunities presented at this camp in Jackson Wyoming.
The teachers convey to their students the importance of outdoor recreation and resource management but also volunteer for the many projects that our local chapter works on throughout the year.
Congratulations to Heather Rederth in being our latest graduate from this class.  Heather teaches at Rapid Valley Elementary.  While her father is very active in outdoor recreation and conservation, Heather did not have any structured outdoor education.  This camp provided her with valuable tools and information to bring to her students and the community of Rapid City such as the importance of hunting to the North American Model of Conservation
 Heather related a story from camp from an instructor….."The teacher asked a student he took hiking for the first time why he had never done it and he answered he did not have anyone to show him.  For many learners if we don't show them, who will?   Educators need to provide learners with opportunities to understand the beauty and benefits, as well as the interconnections of the ecosystems…  Further we need to convey the role that conservations groups, such as SCI, and individuals who and hunt and fish, play in the management of these important resources."
Washington, DC – In a ground-breaking move, U.S. Interior Secretary Ryan Zinke issued an order today that directs the overseers of millions of acres of Federal lands to come up with plans to expand access for hunters and fishermen."Hunting and fishing is a cornerstone of the American tradition and hunters and fishers of America are the backbone of land and wildlife conservation," said Secretary Zinke. "The more people we can get outdoors, the better things will be for our public lands. As someone who grew up hunting and fishing on our public lands – packing bologna sandwiches and heading out at 4AM with my dad – I know how important it is to expand access to public lands for future generations. Some of my best memories are hunting deer or reeling in rainbow trout back home in Montana, and I think every American should be able to have that experience.""We are delighted with this action by Secretary Zinke," said SCI President Paul Babaz.  "It will give American sportsmen and women much greater opportunity to hunt and fish on the lands that belong to all of us, and will assure the conservation of wildlife on those lands well into the future."

Recognizing the critical role hunters play in conservation, Secretarial Order 3356 directs bureaus within the department to:
Within 120 days produce a plan to expand access for hunting and fishing on BLM, USFWS and NPS land.
Amend national monument management plans to ensure the public's right to hunt, fish and target shoot.
Expand educational outreach programs for underrepresented communities such as veterans, minorities, and youth.
In a manner that respects the rights and privacy of the owners of non-public lands, identify lands within their purview where access to Department lands, particularly access for hunting, fishing, recreational shooting, and other forms of outdoor recreation, is currently limited (including areas of Department land that may be impractical or effectively impossible to access via public roads or trails under current conditions, but where there may be an opportunity to gain access through an easement, right-of-way, or acquisition), and provide a report detailing such lands to the Deputy Secretary.
Within 365 days, cooperate, coordinate, create, make available, and continuously update online a single "one stop" Department site database of available opportunities for hunting, fishing, and recreational shooting on Department lands.
Improve wildlife management through collaboration with state, Tribal, territorial, and conservation partners.
"The Secretary's actions today target some of the most important obstacles to hunting in the United States," said Anna Seidman, SCI's Director of Governmental Affairs in the nation's Capital.  "His focus on increased access, better education and volunteer activities will help provide greater opportunities for current hunters and encouragement for new and future hunters.  SCI looks forward to working with the Secretary and the Department of the Interior on these new projects."
SCI's advocacy staff on Capitol Hill worked closely with other groups and government officials to help realize this historic change of direction by the U.S. federal government.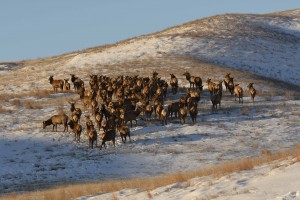 Over 14,000 pounds of elk meat was donated to Feeding South Dakota from an elk research project at Wind Cave National Park this winter.
This was first phase of a multi-year research project to reduce the prevalence rate of Chronic Wasting Disease found in the elk population at Wind Cave National Park was recently completed with 14,000 pounds of meat sent to the food bank.
CWD is a disease of the nervous system found in deer and elk. Working in conjunction with Wind Cave National Park, South Dakota Game Fish and Parks, and trained volunteers, park staff reduced the park's elk population by 262 animals this winter.
South Dakota Game, Fish and Parks, Greater Dacotah Chapter of SCI (Safari Club International), South Dakota Sportsmen Against Hunger, Black Hills Sportsmen's Club and volunteers assisted in this project.  Volunteers worked with wind Cave park staff in bitter weather conditions this winter to cull the elk population to address this destructive disease.
The National Park Service partnered with SD GFP to distribute elk meat that had tested negative for CWD to Feeding South Dakota, an organization dedicated to eliminating hunger in the state.  Only meat that tested negative for CWD was distributed.
Wind Cave National Park, Greater Dacotah Chapter of Safari Club International, South Dakota Game, Fish and Parks, South Dakota Sportsmen Against Hunger, and the Black Hills Sportsmen's Club came together to provide over 7 tons of high protein elk meat to help feed struggling families in South Dakota.  With the cultural significance of elk, a significant share of the meat harvested from Wind Cave was distributed throughout the nine Native American Reservations in South Dakota. This highly nutritious meat helped to provide a source of protein to hundreds of families in need.
Scientists are seeking to determine if the park's CWD prevalence rate is linked to the higher density of elk in the park. It is believed that by reducing the park's elk population it will also reduce the prevalence of CWD. The effectiveness of this management action will be evaluated over the next several years to coincide with the lifespan of the disease in elk. This action is consistent with the range of options presented in the Wind Cave Elk Management Plan/ Environmental Impact Statement signed in 2009.  This is an excellent example of what federal, state and NGO's can do in wildlife management operations, and the implementation of hunting as a management tool in our National Parks.
Sportsman Heritage and Recreational Enhancement Act of 2017
Senate Committee Launches Latest Version of the Sportsman's Act from the first being introduced in 2015.
On March 30, the senate energy ad natural resources committee passed senate bill 733.
This latest version of the Sportsmen's Act includes a number of provisions designed to improve opportunities and access for hunters, anglers, recreational shooters, and those who provide services to the sportsmen's community.  S. 733 also increases agency transparency and accountability for the decision-making that affects hunters and the resources that federal agencies use to provide hunting opportunities.
Key provisions in S. 733 include:
Specifically declaring the policy of the United States to include the enhancement of hunting, fishing, and recreational shooting opportunities on federal lands;
Continuing to recognize the States' authority and responsibility for wildlife within their borders;
Establishing that Bureau of Land Management (BLM) and U.S. Forest Service lands are open to hunting, fishing, and recreational shooting unless specifically closed to those activities;
Placing limits on such closures and imposing requirements for the process for closing lands;
Requiring the creation of a list of federal public lands that allow hunting but for which access is a problem;
Exempting commercial filming permits for film crews of three or fewer, or for news gathering purposes;
Amending the Pittman-Robertson Wildlife Restoration Act to allocate funds for construction and expansion of public target ranges on BLM and Forest Service lands;
Adding agency reporting requirements to the Equal Access for Justice Act for monies spent in litigation settlements and awards;
Establishing a statutory Wildlife and Hunting Heritage Conservation Council to advise the Secretaries of the Interior and Agriculture on wildlife and habitat conservation, hunting, and recreational shooting;
Allowing the transport across National Park Service (NPS) land of bows or crossbows that are "not ready for immediate use"; and
Confirming it is proper to use qualified volunteers from the hunting community to cull wildlife on NPS land.
Although the bill contains numerous sections providing benefit to hunters, it does not include several provisions that had been part of earlier versions of the Sportsmen's Act and that are of particular interest to SCI members (e.g., importation of polar bears harvested in 2014).  S. 733 represents a significant start in this Congress' effort to adopt important sportsmen's legislation.  SCI will be working with both the House and the Senate toward passage of a bill that will address S.733's provisions as well as others of concern to our members.  Please continue to monitor your SCI communications and publications for updates on this issue.
South Dakota Sportsmen Against Hunger
Hunters can help the hungry, 20 years of Sportsmen Against Hunger helping feed needy families
"Our whole purpose is to get healthy game meat to the people who really need it," South Dakota Sportsmen Against Hunger president Jeff Olson said. "We can't give the food banks enough meat."
The state's three food banks supply nearly 500 organizations in South Dakota with food. The organizations have a real need for red meat from deer and other wild game.
According to the Feeding South Dakota Food Banks in Rapid City, Pierre and Sioux Falls, one in seven South Dakotans don't have enough money to buy the food they need. That's 100,000 people. Half of them—50,000 people—are children.
If hunters cannot make it to the Clean Out Your Freezer drive, they can take professionally processed and packaged meat to Feeding South Dakota food banks in Rapid City, Sioux Falls and Pierre, or to any food pantry that accepts direct donations. Hunters should tell the food bank or pantry that the donation is for the Sportsmen Against Hunger program. Every donation is tax deductible, and hunters can take great satisfaction in knowing they are helping families in need.
The increasing popularity and success of SAH all started in 1993 with the foresight of the Black Hills Sportsmen's Club of Rapid City. Game donation program features developed by Safari Club International provided the basis for SAH. The program was further developed and implemented through the work of a couple of Black Hills sportsmen's club members. The first years of the program involved less than a dozen game processors who would accept and process game from hunters. Hunters had to fund the cost of processing. In the last 7 years approximately 50 game processors statewide have participated. Hunters no longer pay for the processing directly and
funds are paid by a certificate program. This has become a primary means of encouraging donations of game meat and was implemented in 1906.. As expected the financial incentive greatly increased donations.
Momentum of SAH through the years has been aided greatly by a number of organizations, businesses, foundations, agencies and individual cash donors which have providing funding for SAH. The funding has been used to primarily support the Processing Certificate program and to pay for salvage processing of game such as confiscated game and also deer take under city deer reduction programs.
In cooperation with Feeding South Dakota, processed game meat is delivered to food pantries and other charitable agencies across the state for distribution to the needy families. The real bottom line of game donations by hunters during the past 20 years is that the 700,000 pounds of game meat has resulted in providing over 2,800,000 meals of meat for the needy persons in South Dakota.