Volunteer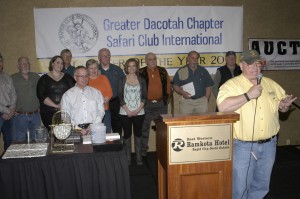 The Greater Dacotah chapter received the 2015 Chapter of the Year Award for their commitment to Wildlife & Habitat Conservation Projects, Youth Hunting Adventures
Care for Zumbo (Mobile Hospitals), To join this great "TEAM" call Dennie at 605 939 8156
Tom Krafka receiving the Past Presidents Award from Regional Director Cal Campbell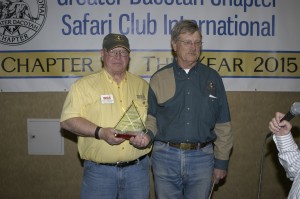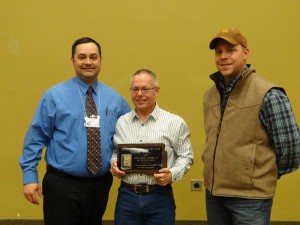 John Kanta, Dennie Mann, and Tom Berdan
One of our Board Members Dennie Mann received the South Dakota section of The Wildlife Societies Wildlife Professional of the year award in 2015.
This award is given to a wildlife professional who has, over the course of their career, made an outstanding contribution to wildlife management in South Dakota.  Dennie had a 35 year career with the South Dakota Department of Game Fish and Parks as a Conservation Officer, Asst. Regional Supervisor and Regional Habitat Manager.
Executive Board Member Mary Ann Mann received the Citizen Award from SD section of The Wildlife Society in 2013, and also received the Citizen Award from the Central Mountains and Plains section of the Wildlife Society in 2014.  Mary Ann has volunteered for many different wildlife organizations such as DU, RMEF, NWTF, MDF, and the Greater Dacotah Chapter of Safari Club International helping to raise dollars for wildlife conservation throughout the world!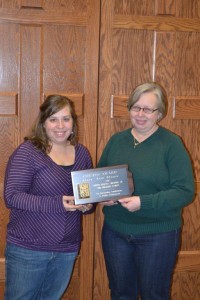 Samantha Nichols, Mary Ann Mann
Congratulations to Mary Ann and Dennie for their work for wildlife conservation and sport hunting!
Become a Volunteer and help conserve our wildlife resources and hunting opportunity with the Greater Dacotah Chapter of SCI!
Volunteer Application
Please fill out the application and email to
greaterdacotah-sci@hotmail.com
Volunteers are the success of our organization and a rewarding experience!